As the week winds to an end, and the study days disappear (seriously, come back), it's inevitable that we will all soon be facing the doom of finals.  In order to provide you with a preview of the week's worth of misery and solitude you will soon subject yourself to in a lonely little Lau cubicle, 4E has compiled a list of our favorite gifs from the Netflix hit The Unbreakable Kimmy Schmidt.
Because hey, you might as well describe one of the worst things ever with some of the best moments from our favorite motley crew… it might even dull the pain (disclaimer: nothing can dull the pain).
Finals, as told by Kimmy Schmidt and friends:
When your friends ask you if you've started to study for your Econ final that's in 2 days.
So you decide to pack your entire life up and seek out a little Lau cubicle which will become your home for the next 48 hours. But not matter how much you try, it will still be as drab and uninviting as ever.
It's time to get to work, so you crack open your text book for the first time of the entire semester.
After reaching for your 5th cup of coffee from Midnight, you start to realize that no matter how long you stare at your problem set it just won't sink in.
But then you remember that nothing can stop you.  Not even evil professors who are definitely out to ruin your GPA and future career prospects.
Things still aren't sinking in though, so you decide to actually attend your TA's office hours on Lau 2 and you end up leaving understanding something.
In honor of your period of enlightenment, you decide to take a study break with your friends. They continue to complain about their exams and you're all like:
After 15 minutes 2 hours, you decide to get back to work.  But studying isn't going well, so you start to get a bit defensive. 
Then you finally catch a glimpse of yourself after spending hours on hours curled up in your cubicle home. What is sunlight?!
Seriously though, what is sunlight?  The only light you know at this point comes from the fluorescent lights that are giving you a migraine. You know no world outside of Lau. 
After 18 consecutive hours spent in Lau, you inevitably have to decide between sleep and food. You naturally try to multitask.
Before you know it, it's the morning of your exam so you of course give yourself a pre-exam pep talk!
But then you walk into the exam room and all you can think is:
The proctor distributes the exam and you realize, after looking at the first question, that you might actually understand some of this.
You end up leaving the exam feeling confident, and you realize that despite all the torture that you're still unbreakable.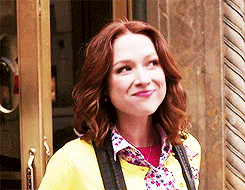 But then, of course, you realize that you have another exam and paper due tomorrow so it looks like it's back to Lau!
Best of luck this finals season, Hoyas.  Just remember, if the mole women could survive living in a bunker for 15 years under the supervision of Reverend Richard Wayne Gary Wayne, then you can definitely handle a week of endless exams.
photos/gifs: imgur.com, buzzfeed.com, tumblr.com, thats-normal.com, huffingtonpost.com, photobucket.com, nerdophiles.com, broadwayworld.com
Catherine is 4E's former Senior Editor and a senior in the NHS from the great city of Believeland. While some may affectionately refer to the aforementioned city as the "Mistake by the Lake", she remains insistent that it's a pretty cool place. Her hobbies include laughing at her own jokes, avoiding Lau at all costs and drinking from Epi's unlimited supply of water.
Latest posts by Catherine McNally (see all)